For 3rd year on, I decided to go to Laar lake at Damavand peak foot fishing for the rare brownies, yes these are really rare, at least in Iran, where this lake is the only lake holding them.
Well past 2 month have passed very hard in my country, so I really couldn't go sooner, and it is about the end of the legal fishing season (for this species of course).   I thought I need to go there before I totally miss this year's chances.
My cousin and I got on road at 3 in the morning and went along Haraaz road.  When we were about to turn to the Laar road at Polur, 3 hitchhikers asked us to give them a ride to the lake, and we made friends along the way.
They were enough enthusiastic for this species that they have been came all the way from Amol at northern province of Mazandaran.  From Imamzadeh Hashem peak The way was all in the fog, and it continued to be the same along the Laar road.  Near the environmental post, it was a long long line of cars waiting to get permissions and enter the area.  Believe me, some of those are so eager they almost race this last part which is not much paved and has no asphalt.  They all want to get to the lake to get the best place and also to not lose the morning, you will find out why this one is important later.
In that day, they started giving permissions at 5:30, so everybody lost at least 30 minutes of valuable time. I guess we lost even more, as line was long.  So we continued towards middle of the lake.  This year the lake contains much more water due lots of rains in the spring, and my last year's fishing location was totally under water.  That is good news for Tehran of course, we have enough water this year.
After parking at side of road and 20 minutes of walking, I decided on a location eastward which was under a hills shadow at least for an hour or two, we started at about 7:00, finally.
Some other people have been reached there before us, and their lines were casted already, but we had a 100 meter area to our own.  I used a 3 string trout rig (a last night's work), used earth worms on two bottom ones and 1/4 of Kilka (some kind of Caspian Sardine) on the top hook set.  Casted about 50 meters and started to prepare the second rod.  The first fish was caught in a few seconds.
It was not a big catch, but very encouraging.  Kilka bait worked there. and as it was still foggy and cool, I believe this was the perfect condition.  caught the first one, again caste the line and tried to prepare the second rod, again the first one caught some fish!  I was really feeling lucky 🙂
This one was 39 cm long, and kind of heavy for this species, maybe about 1 kg or so, I didn't weight it as sun was raising and clouds were disappearing.  Then it seemed no luck, and I was also trying different combination of baits.  Nothing except Kilka seemed to work, and overall we got another big brown trout which was both big and fighting.  Unfortunately (for me, not for the fish 🙂 )  after I removed hooks from her, she put 2 of hooks in my finger and jumped in the water, and danced all the way to the deep lake 🙂
We got nothing as clouds were gun, and nobody in our area caught anything.  We stayed untill 3:00 p.m. and at the same moment the small one found a way in my keep net to get out, right when we were about to get back.  As it was too small, we didn't anything serious to stop him, and he went back to the lake as well.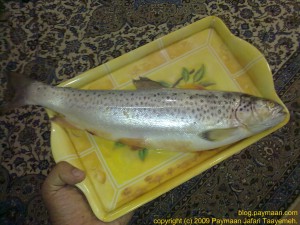 Overall, this time it was much more fun than those times before, and also warmer.  weather is so clean and cool, so wind is cool, but sun burns your skin.
And last but not least, as always, I bought a few big rainbows from a Haraz river fish farm, it is always nice to buy fresh from the source!
I am not sure if I can og again this year, but I will if I can.  only one week remains from the legal season.
Paymaan.