9th June 2008 was the beginning of the fishing season in the Laar reservoir at Laar dam, right at west of Damavand peak, and east of Tehran province, Iran.  This year, I had the chance to go there to have a great adventure and fishing experience.  The lake is native environment of an special species of fresh water fish; Brown trout.  This kind of brown trout is called Red-Dot trout locally or in Farsi: "Khaal-Ghermez, خال قرمز", because most of the fish are silver colored trouts with black and red dots on them (other varieties exist as well).
I tried to get some sleep the Sunday 8th June, as I didn't get a good sleep for a few days before, thinking I needed to gather my strength and wake up very early and I was to drive about 90 Km to the Laar reservoir and Damavand peak.
I waked up at about 3:00 a.m. Monday 9th and get ready, I drive towards the gas station at about 4:00 filled the tank (for USD2, you won't beleive it no?) and got to the road at total dark. an hour later I have been passed the Emamzadeh Hashem peak, were people stop to take a rest, buy things, do their prayers etc. etc. after riding such a hard ramp road. The sun was not yet up, as it was hidden behind the beauty of Damavand peak. about 15 km after Emamzadeh Hashem, you reach the Polour, were its mineral water is so pure and famous in Iran.
before you leave the Polour, you have to turn to the left and get out of Haraz road, there is a sign about Laar Dam and also an statue of a mountaineer so nobody can miss the entrance. You have to go about 20 km more in a very calm and pretty asphalt road. normally at fishing days, it is not so calm, but I was an hour late from other faster enthusiast, so I was almost alone in the road).
Imagine this, a great peak at your right Damavand stays still covering the sun at 5:40, at the left side you see a huge field of wild tulips, specially at these time of year. It is a great experience. And believe me, the temperature was so cold I was shaking, I didn't want to forbid myself from feeling the pure oxygen in the air.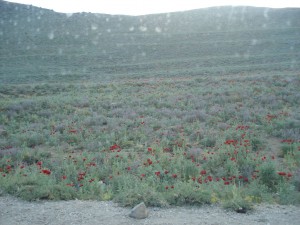 After reaching the Dam entrance, asphalt road ends and you enter a very very bad road to the right which goes towards the lake and peak (there are other ways to the peak as well). Preferably you need a 4×4 not because the road is not suitable for normal cars, but becuase there are a lot of stones in the road you don't want them to hit below your car, and also that on a higher car you can go much faster, I had to keep the speed under 20 km/h but still the sound of ride was so annoying.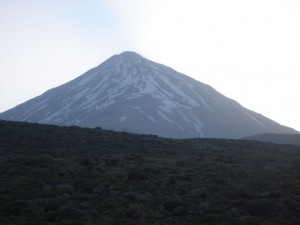 After 2km in the bad road, you reach to the environmental post which you have to obtain both fishing license and entry permission. I have a one year permission for fishing, but for this special kind of trout you have to obtain a one day permit as well (for about USD 3.60). I got it in Tehran the day before, so I only had to pay about USD 1.20 for the entry and entered the area. From this point on, you can see the lake at your left side, and the sun still was hiding behind Damavand. Here, the wild tulip fields are ended and many other plants are seen, mostly yellow flowers, but also Lavender and others which I don't know their names.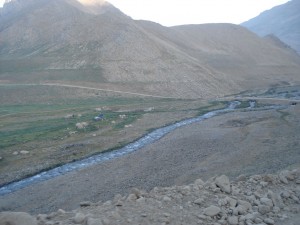 You go down and down very slowly, until you reach the Delichai river. It is an small but very fresh river, the first of about 250 waters which enter the reservoir, and you can start fishing right here. Most people prefer to go were this river enters the lake, about 500 meters to the south of road, but some also prefer to continue to explore the 11Km northern border of the lake, many like me go about 3 km more from this point, but I wish I hadn't. I could park the car here and go on foot to the beginning of the lake, because all my plans were changed as water level was unbelievably low even at this time of year.
I have been planned to go 3 more km from Delichai river, were there is a cut in the water, and then go about 170 meters on foot, sit at lake side and start fishing. Unfortunately, although I go were I was planned, water level was so low I had to go about 1 more km on foot walking in the now dry part of the lake to reach the water and all good places were occupied by then 😀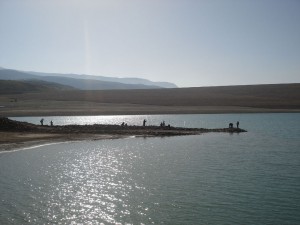 At about 6:36, I was reached the water. I was pretty hungry by then, but preferred to set up my rod and reel and attached one of my mepps lures and spinners to try a few times and also wet my line in a shallow part.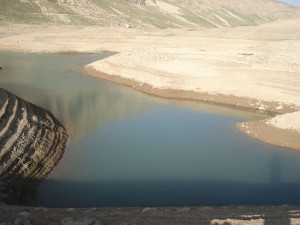 Then I went to an stationary position which was still not that deep and set up my trout rigs. I tried that location for an hour or two, using my spinners and lures, and also tried my MisterTwister plastic lures both as jigs and also as trout rigs to no avail. nothing happened, even a professional spinner fisher man came by and used his proven Mepps #3 or #2 Aglia with red dots (faking the exact same species we are looking for in Laar Lake; Brown trout) and still he caught nothing at my location.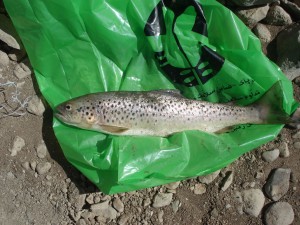 So I tried to change the location and went somewhere closer to those who could be able to catch some fish since early morning.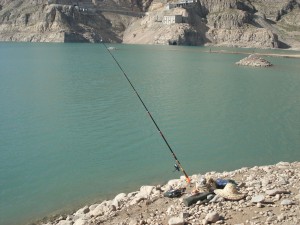 Other than not being able catch fish until 18:00 which I left the lake, I really enjoyed of being right in front of a gigantic, 360 degree, wide screen view of Damavand peak. It was a really great view. The weather went from very cool to a little warmer, to windy, and finally to windy and so cool I couldn't stay.
I found some new friends there, and they had much better skills and baits and they caught fish up to 40 cm untill around 11:00, but fish stopped feeding until 15:00, nobody caught any in that period.
After talking to those friends, I found out that these Brown trouts are seem very smart, unlike rainbow trouts down in Haraz river which are mostly around a few monthes old, these Brownies (or as we call them red-dot trouts) are around 3, 4 years normally. They seem to know the tricks, and they don't get attracted to fake lures and silicon and plastics!
The bait people were using was parts of Kilka (a kind of Caspian minnow or shad) plus night crawlers and earth worms. I got a few from friends and tried them, and although I caught nothing, fish were biting actually, and they ate all the worms so fast.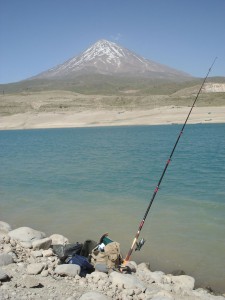 The other problem was fish were at very deep waters, after 8:00 there were almost no surface feeding. Most results were at deepest parts. spinners got good results, but you need a shorter and faster rod and a thinner line, say 0.20 mm was the thickest possible. otherwise you could not get the farthest distance needed for light spinners.
Back to the car, I picked a whole bunch of several species of herbs, which had pretty flowers, and then after I reached the wild tulip field, I also grabbed a big bunch of that as well. 2 hours of driving to the home, and the moment I entered the Tehran area the heat was so high breathing was hard.
I also got a lot of sun burns at ankles and face even having a hat.
Next time, I will not forget to bring my Kilka and earth worms, maybe I find it even more entertaining and funny. I may also park the car at entrance and walk all the way down, as it was so hard to take out all the dirt out of the car. A 4×4 car is a must.
Paymaan.