Travel light! This is the most important advice I can give.  If you are going to take a long hike, do your best to keep your package as light as possible.  Learn easy ways to provide any needs by yourself, wherever possible.  the lighter you are, the faster you can move and the less you get tired, and you extend your range and possibilities this way.
Last Friday 20 May 2011, I finally begin to try my long planned solo hike.  It is years I have not done pressure tests like this on myself, and as a non-athletic person reaching 40,  I had to prove some things to myself and get back on track.
The original plan was to have a 100 km (direct line, not considering ups and downs and zigzags and hills/obstacles) path, from north of Tehran, towards Caspian sea.  This is one of  routes people used to travel a hundred years ago, passing through Alborz mountains.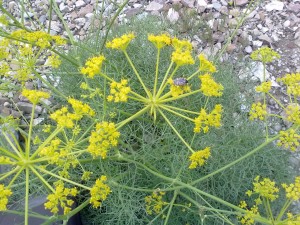 Some 35 to 40 km of the way was hiking only, and the rest has roads. These are not unoccupied, there are villages in parts of the path, but the height isolates Tehran province from Mazandaran.  Tehran is almost at 1200 meters from sea level while the lowest possible paths in my plan are at least 2 series of 3100 meter steep mule and mountaineering routes.
The mountains are such high that even weather is totally isolated in those 2 provinces, they have a totally different weather sets because of this.
Starting at 11:30 a.m., I began the hike.  It was years I have not tried steep trails, and I had some 20kgs of packs with me, which made it even harder at first. the first part took about 5 to 6 hours, including time for lunch and drink etc.  But it was obvious my body was not adapted yet.  I pushed and pushed until I reached the first day target, Dasht e Havij (Carrot plains). It is said a hundred years ago people were used to grow carrots there, but now they cultivate cherry trees.  People hike there at holidays, but not more.  after this plain, it is mountaineering.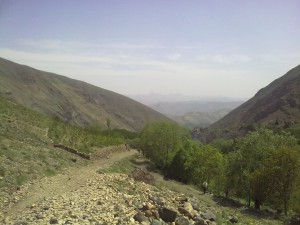 I set my base there at 17:00, set up my poncho tent, prepared food, sleeping bag etc. before sunset I noticed a caravan of mules coming down from the west  side of valley. so I talked to them about conditions and if there is any danger out there etc.  They told me  there are no wolves as it is warm and also we talked about if there are thieves etc. I was a little worried then.  Imagine a plain, huge valley and nothing but you, it could be dangerous 🙂  So I totally went stealth after dinner, no flames no fire nothing.  Nobody could see me.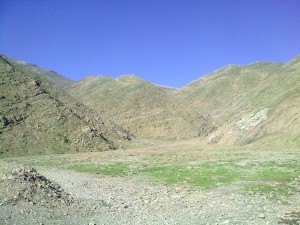 Night was so beautiful, black with the whole set of stars and planets, until at around 24:00 or 1:00 moon finally came up over the east wall and made everything light, and I finally fell asleep.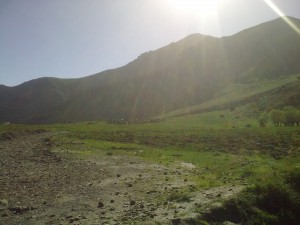 Day 2 was tough (at least for me).  I climbed to 3160 altitude, through a mule way locals showed me.  It was wider than the walking way but more stones and less water.  All water was at other side of the valley, eastern wall.  Started 7:30 and about 1 or 2 I was at top of the path, after lunch.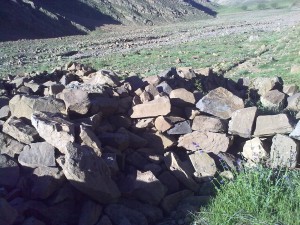 Then I had to descend down.  It was beautiful scenery, with Damavand peak at one side, and all green mounts and hills spread through the scenery, again with lots of streams and small waterfalls, and snow in some places.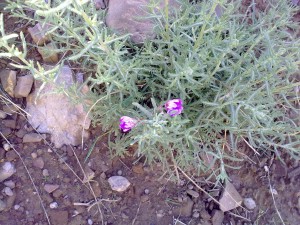 I reached the flat at around 4 maybe, and I had to path now-bigger streams so I could reach a road,  to make shelter and sleep for the next day.
For some reasons, my mobile charge emptied, and solar charger couldn't help either.  I couldn't take photos after descend and I had no access to Google maps etc. to map the trail directly.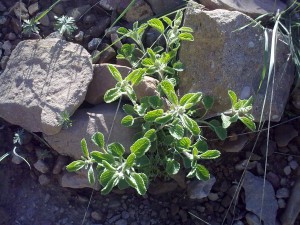 After having dinner and coffee, and due not being able to take photos the next day,  I decided something strange.  I decided to go to plan B, not going forward, but towards Lar reservoir, where I fish every summer.  No cars were ever passed that road, I had to walk, and it was just getting dark.  I walked very fast for two hours,  funny when you are heavy and go up it differs a lot.  I guess I walked about 10kms in 2 hours until I reached an environmental office so I could get clean water (all streams were fast and muddy, although  a huge amount of water existed).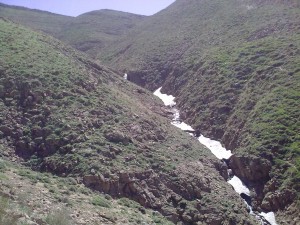 I made shelter there and blanked out 🙂
3rd day,  I couldn't even walk.  My stomach was upset and I didn't want to eat any breakfast before I feel better.
Last night the guy at that office told me what road I should chose to continue on, so I followed his instructions, find a bridge (I was between 2 large streams at this time) and crossed south of it.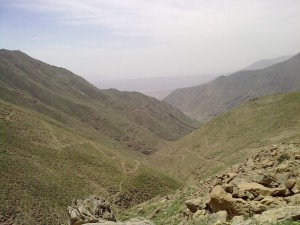 Then it was a road among green hills towards south east and after a few hours, and seeing only 3 cars in the opposite direction, talking to them, I reached the entrance point to the park.  There was no chance any cars pass before sunset, and it was about13:00, so I had to continue on foot.  From here it was an steep road up to 3000+ meter altitude (again!), and I walked and walked to about 50 meter to the top point when a car came by, 3 young men were inside and I asked them for  a ride and they accepted, so we drove the next 10,15 km to the city of Rudehen, east of Tehran.
Rest is history, I took a taxi and an hour later I was home.  3 days of walking finished in an hour!  That morning I didn't even think I would be home by afternoon, but it happened.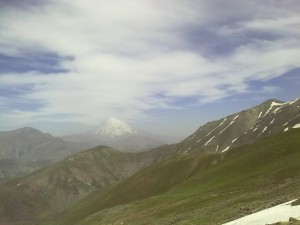 Next time I will continue the plan A and I will reach Caspian sea on foot,  But I will go there much much lighter than this time, I am sure!
You can view more photos of the day 1 and day 2 at my Panoramio account and on Google Earth.  There are also a few clips I took which I may edit and upload on Youtube later.  I will let you know in next posts.